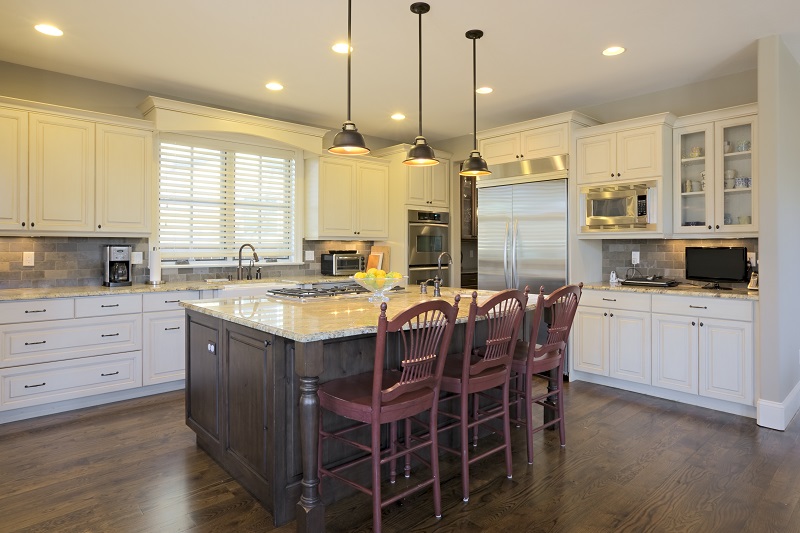 A kitchen design is composed of many elements, all of which come together to form a bigger picture. There are countertops, sometimes a backsplash and/or a central island, a dining area, appliances, the sink, flooring, and of course:  the cabinets. Kitchen cabinetry is an element of this big picture that offers a lot of potential for creative design, at the same time, it serves an integral purpose in the room. Cabinets are a prominent feature in both appearance and use, so the materials, finishes, styles, and functionality you choose are extremely important.
Woodwork, carvings, finishes, hardware, and angles can transform a cabinet into a work of artistry. You may even elect to have one of our expert craftsmen custom-design your cabinets to exactly specify to your tastes and needs. Developing ample cabinet space and organization is essential, ensuring that clutter stays to a minimum. The small details do matter. In order to find the cabinets right for you, you will need a professional plus a catalog of good choices.
New Design, Inc. offers a robust selection of cabinetry options. Or, as mentioned, you can even opt to have them custom-designed by one of our craftsmen. You choose from a wide variety of materials and styles with the help of our designers who will guide you and create a plan. Our experienced team is trained and passionate about opening doors of design exploration for the best fit for your room and budget.
We accommodate nearly any budget while still providing the results our clients' desire. We utilize challenges to become more creative, fashioning popular, stylized effects with many different materials. In their natural state, different species of wood each have certain characteristics and attributes to them. Our wood selection includes:  oak, maple, cherry, hickory, alderwood, pecan, and birch. We also have non-wood materials, which can look just as stunning. All of these materials and finishes will help craft a design that is uniquely your own.
Visit our showroom or contact New Design, Inc. to learn more.