Kitchen Redesign Basics: One-stop with New Design Inc.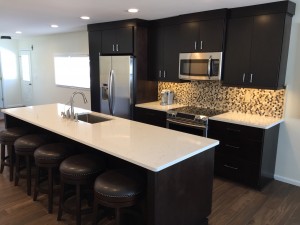 For many people, the thought of redesigning a kitchen feels both exciting as well as daunting. Whether the desire to remodel comes out of a need for improved utility or a desire for aesthetic change, there are so many options available. Possibilities are beautiful but also can be overwhelming, especially since most of us do not have the knowledge or experience in kitchen design. The research, contacts, and work involved can quickly consume even the most patient person, leaving them frustrated and wondering if it is really worth the effort. This is precisely what New Design prevents.
From experienced design specialists, sales people, an award-winning design department, dedicated project managers, online scheduling, a custom shop, verified licensing and insurance, certified installers, a service department, electricians, plumbers, builders, and one-stop shopping for cabinets, countertops, flooring, and fixtures, New Design Inc. quite literally has "it all" and handles everything for you. There is a lot of flexibility and efficacy in New Design remodeling because of the continuity between all departments involved in the planning and build.
Ray and Richard, founders of New Design, have built their company so that installing a new or renovated kitchen is pretty hassle-free for their customers. Customers do not have to worry or stress during any phase of the redesign from conception to the finished product. The possibilities are still endless but with New Design trained professionals guiding you to find the most useful and visually-pleasing choices for your tastes and needs, the process becomes fun. With expert support, the magic of what is possible remains, without the feeling of being drowned in a sea of choices.
New Design creates innovative designs that never cease to impress and amaze. Customer's expectations are often times exceeded when they see the end result. New Design is who you want when redesigning a kitchen or bathroom. Call today and learn how New Design can help you enjoy a whole new kitchen; 810-694-8609.