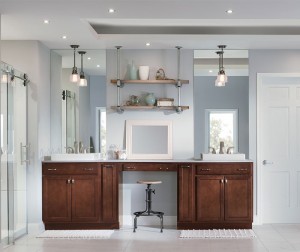 Consider this: Tea lights glowing softly lined on the ledge of a cream-marble bathtub. Steam and bubbles gently rise around your body, allowing your mind to wander and your body to relax. The color scheme of the room is tranquil and the bathroom design has been customized to feel like you are at a spa. There are hints of green plant life and rich, natural-looking cabinets plus a walk in shower with a luminous glass door. The mirror creates an illusion of additional space, along with dimly-lit wall sconces which can be modified to meet your lighting needs. Debussy's "Claire de Lune" swirls through the steam and warm air of your bathroom, which has clearly been transformed into a sanctuary and personal mini-spa. You feel restored, grateful, and thankful for having completed this bathroom redesign. You haven't felt this at ease in weeks.
New Design Inc. has all of the tools, knowledge, and expertise needed to transform your bathroom into a small oasis with a dual function allowing you to get ready for your day and at the same time the opportunity to truly relax. At New Design, we are committed to practicality and utility, but also have the capability to craft your space into something beautiful and remarkable.
So many people we work with are stressed out, tired, and feel as if they have no place in their cluttered houses to unwind. They feel as if a spa-type bathroom is only possible for the rich and famous and is out of their reach. We particularly love working with these people, because we are able to dazzle them with something they never expected. We open their eyes to the real possibility of creating an atmosphere of calm, nurturing, and even romantic – if desired- right in the comfort of their own redesigned bathroom.
We work within your budget to create a mini dream spa of innovative design. Colors, textures, accents, and layout are all important in establishing a sense of peacefulness and relaxation. We take everything into account, collaborate with your vision, and produce the best possible solution for your bathroom redesign.